Along with the other 260000 exhibitors, the STPP Group participated in the 129th Canton fair digitally from our office building. A computer, a camera, a carefully prepared showroom, and an enthusiastic team made it possible to accomplish a very prolific "Cloud Exhibition."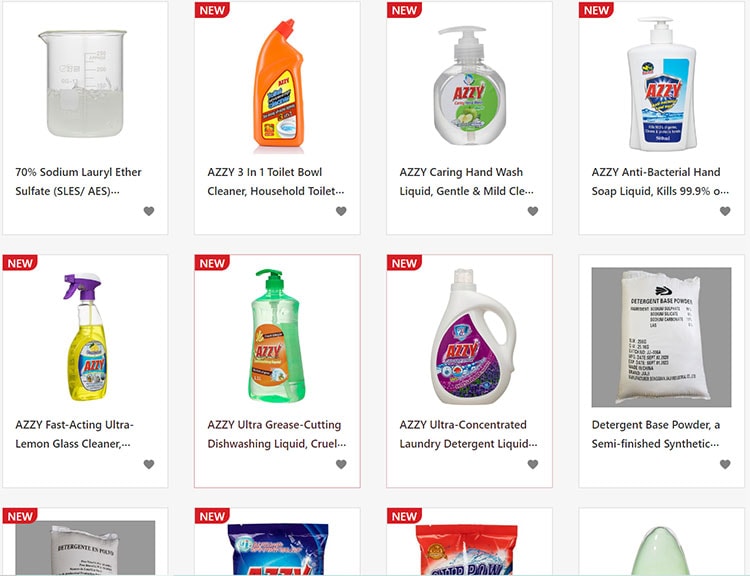 During the 10-day event, the STPP Group's international sales team demonstrated our expertise and presented our 26 core products through live stream shows.
The display has covered detergent ingredient chemicals, detergent packaging materials, finished liquid and powdered detergents, and detergent plant equipment.
We received over 50 different purchasing inquiries from 14 countries and regions. Our sales team has been in close touch with various potential customers, and we expect to see the first results in the form of newly established business cooperations soon.
The STPP Group does not see itself solely as a supplier of detergent-related products, but rather as a comprehensive supply chain provider for the home care and cleaning industry.
Along with worldwide product supplying, we stand by our customers as partners, offering a range of added-value supports. Our range of services comprises business training, technology sharing, brand building, and marketing supports, etc.
Breaking the boundaries
Helping customers from developing countries to set up local manufacturing of the home care and cleaning products has been one of the STPP Group's key concerns since 2017.
Compared to importing finished goods from China and other countries, setting up local manufacturing provides more notable benefits. To name just a few:
Lower costs
Easier communication with end consumers
Co-working with downstream distributors for product improvement
More job opportunities for the local community
Contribution to local economic development, which returns in mutual benefits
However, despite all the advantages, our prospective clients from developing areas, such as Africa, keep facing many setbacks in their efforts to set up a local manufacturing plant and manage smooth production.
List of the most common issues and how we can bypass them together
Problem #1: Shortage of investment capital.
Our Solution
STPP Group offers a variety of flexible solutions, starting from very small-scale production lines that require minimal investment as low as 50000 USD.
Problem #2: Minimal, or no knowledge at all about the industry and the manufacturing process, together with the lack of marketing skills.
Our Solution
STPP Group is open to sharing all related knowledge and experience, along with providing on-site training to smooth out production and management processes.
Problem #3: Difficulties in securing a stable supply of raw materials needed. In many undeveloped countries, it can be very challenging to find a local supplier of chemicals and packaging materials due to the lack of local detergent manufacturers.
Our Solution
STPP Group provides a full list of detergent chemicals and packaging materials, along with suitable product formulas.
New Opportunities
Among the numerous inquiries we received, there is one we'd like to bring it up particularly. A company in Namibia has been successfully importing foodstuff from China and Thailand in order to distribute it in Namibia for quite some time.
Somehow, they came to notice that local importers of detergents have also been importing washing powder from China in a similar way, selling the vast quantities in the local market. The situation, naturally, provoked some interest and the desire to research the prospect.
During the 129th China Import and Export Fair, the aforementioned company got in touch with the STPP Group. Using the advantages of our live stream show, they inquired in detail about the possibilities of manufacturing washing powder under their private label and setting up a stable OEM cooperation.
After conducting a survey and talking to their CEO, Mr. Fillemon, the STPP Group's team suggested a different scenario. We recommended setting up a Washing powder post-tower processing plant and manufacturing the formulas locally in Windhoek, Namibia.
The Logic Behind
The competition had already been importing finished detergents for years. Instead of competing for the same position in the market, which can be disadvantageous for a newcomer, Mr. Fillemon's company should take a fresh approach with the business route that has a higher potential for growth. 
The client was not excited about this proposal initially, exposing a set of doubts about whether his company could manage to become the first local manufacturer.
Indeed, without an exemplary model, setting up a factory may sound implausible, or at least very complicated. However, after our presentation of other detergent plants we set up in Africa, including one of our own in Ethiopia, his confidence changed, as well as the interest.
Following another two rounds of discussion, Mr. Fillemon decided to fly to Addis Ababa, Ethiopia, for a two-week visit.
There he will explore the STPP Group's overseas subsidiary manufacturing plant, DAFA SOAP AND DETERGENT MANUFACTURING PLC, and have each and every question answered directly, on-site, through the practical demonstrations.
The Key Takeaway
The STPP Group continues to pave the path towards changes for the countries in development. Together we look into a more productive future, bonded together with firm and reliable bounds that help the local economy, as well as the global progress.